Search for Property Information:
This website provides direct, online public access to all property records and document data it has available for the United States and U.S. territories. Find mortgage, sales, and tax history – as well as owner records, property values and more.
Website served over 2,389,893 property reports — Service is provided in the U.S. only.
Current housing statistics for the U.S.A:
Median property value $205,000
Number of households 118 Million
Home ownership rate1 63.1%
Avg. Property tax range2 $3,000+
---
1 The homeownership rate of the United States is 63.1%.
2 In the United States the largest share of households pay taxes in the $3k+ range.
Find your home details, financials and owner records all in one place — on any device.
With direct access to public records and a nation-wide property database you can retrieve all the information you need from any computer or mobile device. Our service compiles all data available on any U.S. property into a simple yet extensive property report that can be accessed online or in a printable PDF format*.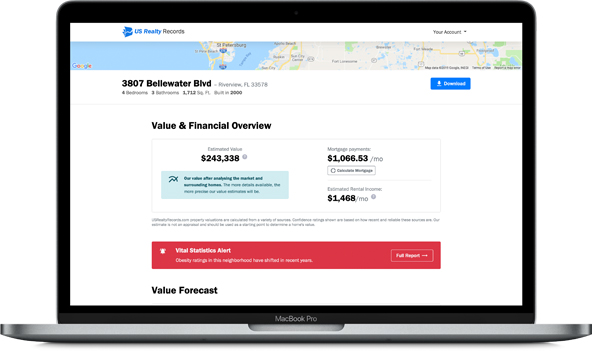 Easy to use reports.
Not all home record search sites are accurate.
We created a service that provides property information you can trust. Try a search today to access the largest and most up-to-date real estate database.
We pore over hundreds of millions of available public records, state & county data, and more to provide you with a complete picture of what you're looking for.
Our reports include crucial information all home buyers, sellers, and investors need. Discover any home's value, previous sale info, mortgage & tax records, neighborhood demographics, Market statistics, related properties & lots more!
---
*Charges may apply for report downloads.